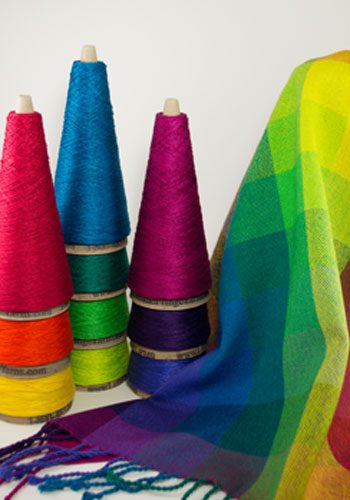 We have split our Tubular Spectrum™  color wheel in half to make this Petite Color Gamp Kit. This kit contains ten of our Tubular Spectrum™ brilliant colors to weave 4 color gamps!  Gamps are a brilliant way to explore color interactions.  They will help you predict future color interactions and take the guess work out of project planning.
Available in 20/2, 10/2 or 5/2 yarns, and you choose whether you want to receive 10 warm or 10 bright colors.  The Warm colors are:  5 Yellow, 5 Yellow Red, 5 Red, 5 Red Purple, 5 Purple, 5 Purple Blue, 5 Blue, 5 Blue Green, 5 Green, and 5 Green Yellow.   The Bright colors are:  10 Yellow, 10 Yellow Red, 10 Red, 10 Red Purple, 10 Purple, 10 Purple Blue, 10 Blue, 10 Blue Green, 10 Green, and 10 Green Yellow.
Listen to the Loon! Difficulty level is Beginner to Intermediate (One fish). This is a Four to Eight harness kit.
READ MORE