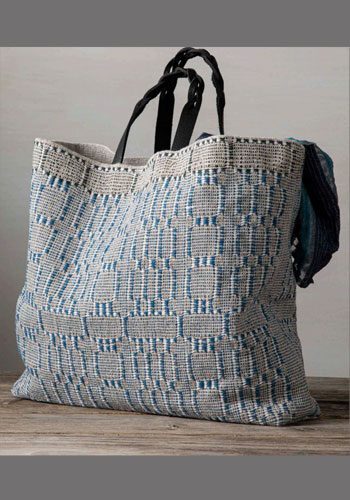 This classic bag is a beautiful 8-shaft project!
We have assembled the yarns to make Krista Richey's Hemp Bag Bliss as shown in the January/February 2021 edition of Handwoven Magazine from Long Thread Media.  You will find the instructions on page 50. If you do not have a current subscription, you can purchase a copy of the magazine here: Handwoven Magazine
(Please note, we are currently out of stock on the 2 ply natural hemp yarn.  We can substitute bleached 2 ply natural yarn at this time.  If you wish to have this substitution, please note that in the comments section of your order. Also, the instructions call for the color Deep Sea that is currently out of stock with our supplier.  We are substituting Sapphire in this collection for now.  Sapphire is a close match with how the bag looks in the picture.  We hope to have the Deep Sea back in stock at some point.)  You can see all the colors of hemp here if you wish to choose additional colors.
READ MORE