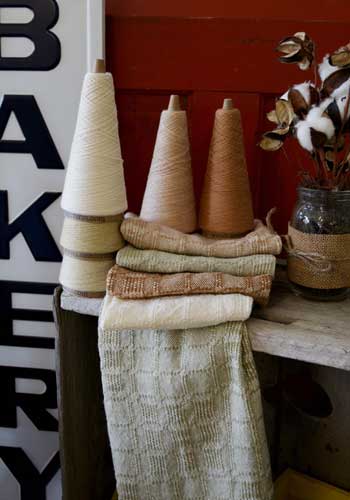 There is a hemp revival underway. Hemp is a plant that fed, sheltered and clothed mankind for millennium, provided fodder for the first domestic animals, may have been the actual fiber used to make the beautiful 'linen' garments from the times of the Egyptian Pharaohs, supplied the flag fabric that Betsy Ross stitched to commemorate a new nation and to cover the wagons that traveled from the east coast to the American West.
A New/Old Crop
Hemp has recaptured the attention of farmers, processors and investors as a sustainable crop for oil, food and fiber. We at Lunatic Fringe Yarns are committed to building a market for this gorgeous yarn to show those farmers, processors and investors that there IS a market for textile grade hemp in the United States.  Building the market for the products is a huge step along the way to getting the fiber more readily available.
Romanian Yarns, American Dyes
Our Romanian Hemp Yarn is a wonderful 100% hemp yarn. It is a long line, wetspun Romanian hemp yarn with great drape and longevity available in Bleached or Natural.  It's perfect for delicate lace, summer clothing, and items for the home. This yarn makes a good warp yarn.  Hemp weaves similarly to linen, but this yarn is much softer and more supple. It washes and polishes beautifully with ironing. It also doesn't fuzz while you are weaving with it.  Yarn is made in Romania.  The bleached and classic (natural hemp color) yarns are available on 400 g cones and are available in 12 ply, 6 ply, 3 ply, 2 ply and single ply.
3 ply Colors too
In addition to our own Firefly hemp yarns, we have colors available in 3 ply yarn.  It is made by LanaKnits from Canada, and the skeins are spun and dyed in China.  It comes in a range of vibrant colors that are dyed with reactive dyes and are mercerized for colorfastness. This yarn is a fingering weight which is approximately the same as 5/2 cotton, a perfect weft yarn for clothing, towels, overshot. .Sett it at 15 for lace weaves and plain weave, 18 for twills. It washes and polishes beautifully with ironing. It also doesn't fuzz while you are weaving with it. Colors are available in 50 g skeins with 165 yards per skein. The skeins are spun and dyed in China.
Try out these hemp yarns and see what wonderful fabrics you can make.  Some of our favorite towels are woven with hemp warp and Sustainable, Unmercerized Cotton Yarn for the weft.  The 8/2 and 10/2 cotton yarns combine well with the 2 ply hemp yarns for soft and absorbent towels.