THANK YOU!!!!!
THANK YOU!
I am soooo impressed! I have purchased your yarn previously (your booth at Convergence – Reno and from other vendors at Fiber Festivals), but I've never ordered from you directly. Last Saturday I placed an order for
…
the Weave A Long. I was sure you would get a bizillion orders, so I wasn't really expecting to get the order before the Weave A Long. It arrived today! Really amazing! Thank You!!!!
Yarn Arrived Today!
My yarn arrived today.  It is already sitting down by my warping mill.  Am loving the colors. I am so excited to get started on Tien Chiu's class! Thanks, C. McCarthy
Gorgeous Yarns and Quick Service!
I just want to thank you for the gorgeous yarns and quick service! J. Mayfield
Thank you for your service
Just a quick note to thank you for your service. I received my package yesterday and an currently enjoying all my beautiful thread (yarn). Can't wait to start something new. Thanks again. Diane
Hearts in Gray
Just started this on my 8H Baby Wolf, with yarn from the Gray Matter kit. It is the Ashford "Jack Hearts" draft.  I'm calling it Hearts in Gray.  I love how the hearts show up!
C. Morse
Seashore Towels
I have just finished hemming the two towels in "Driftwood". I am an experienced weaver who decided to try his hand at Rigid Heddle weaving. Other than a small sampler to get the feel of my loom, this was the
…
first project I have attempted. It was fun, easy, and rewarding. I have already ordered another kit in a different colorway as well as some more yarn for a project of my own design. I could not have been more pleased with the yarn in the kit and the instructions!
J. Murphy
Thanks for Terrific Yarn
Just a quick note to tell you I'm loving weaving with 8/2 American Maid! The sample I wove wet-finished soft and absorbent; I've had no warp threads break (well, I'm only in yard #2 of 9, so there's always a
…
chance…) (and I'm using a temple because this draft has more significant draw-in than I'm used to). Draft is slightly modified (lengthened to towel length) Bread Cloths from HW Design Collection 16 (you can see a peek of the Swedish Lace lower left). (Blue is Valley Yarns 8/2 unmercerized from WEBS, French Blue) Here's the sample – top of picture is off the loom; bottom is wet-finished in 1 quart tap water, 1 Tbsp baking soda, simmered 20 minutes. Your info is correct: Dirty water! But: A very happy color deepening of the Light and Dark Brown, and the white is brighter!
W Nicolson
Natural Cotton Placemats
I have just finished my placemats using the natural color cotton yarns.  The finished mats are wonderfully soft.  The color is great.  This is a twill and I tried some Leno Lace on the edge. Thank you! Placemats woven in
…
3/2 cotton with white warp and naturally colored weft.
Joanne K.
Sharon Leahy
I LOVE THESE COLORS!!!!! Thank you, thank you, thank you!!!! Compared to the dulled, toned, shaded colors I had found previously, THESE HAVE LIFE, ZEST, ZIP, FUN, DELIGHT, SASSINESS! Yippee! I took them to our Woolies on Wednesday group (embroidery
…
on wool) and the ladies got VERY excited! Smiles, I'm sure you'll be getting some orders.
Sharon Leahy
Joanne Kurtz
Awhile ago I purchased some purple and white 5/2 yarn from you.  Thank you.  Delivery was quick and I just starched and ironed my finished towels. The colors are wonderful, the yarn washed well and was great to work with. 
…
I am a beginning weaver and loved the feel of this yarn and the fabric. The weaving draft is by Barbara Elkins: Modified Star-work Dishtowel on 8 shafts from Valley Yarns. This picture shows the bottom.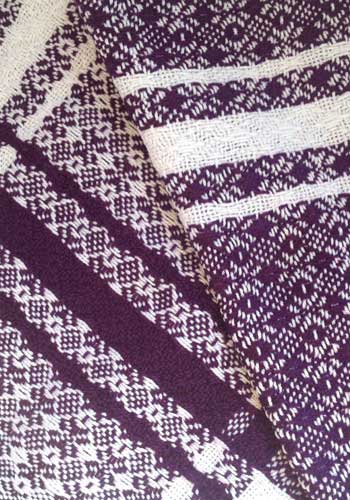 The towels are woven with the bottom side on top, always a surprise when finished as I turned it over.  Of course, I did crawl around on the floor to see the bottom as soon as I had some weaving done.  Life is always an adventure.
Joanne Kurtz