This 1-hour seminar was presented by Jennifer Moore on February 11, 2023 via Zoom.  You may have access to the recording of her talk for 2-weeks.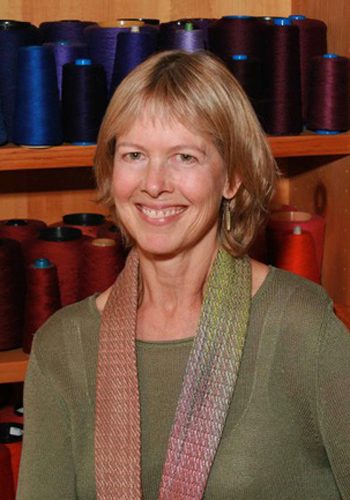 Jennifer holds an MFA in Fibers and specializes in exploring mathematical patterns and musical structures in doubleweave wall hangings. She has exhibited throughout the world, receiving numerous awards for her work, and has been featured in many weaving publications. Jennifer lives in Santa Fe, New Mexico, and travels extensively to teach workshops in doubleweave, color, and geometric design. Jennifer was invited to teach doubleweave to indigenous Quechua weavers in Peru in 2013, where they are once again excelling in this technique which had been discontinued after the Spanish conquest. She is the author of The Weaver's Studio: Doubleweave, several doubleweave videos, and online courses, and numerous articles.
Jennifer has been teaching her Double Rainbow Doubleweave online workshop with us this past year, and she is an amazing teacher.