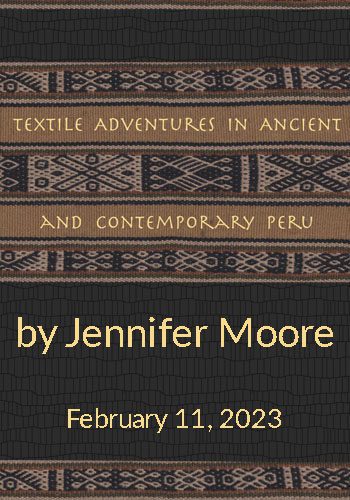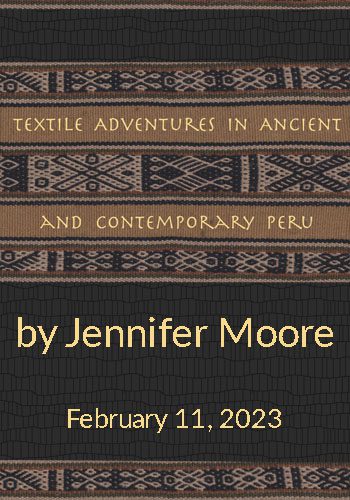 Jennifer Moore presented her 1-hour seminar on Textile Adventures in Peru.  You can join in the fun with a recording of her seminar from February 11, 2023.  You will have access to the recording for 2-weeks.
A significant aspect of Jennifer Moore's life is the incredible connection she has with Quechua weavers in the Peruvian highlands. Jennifer became intrigued with pre-Columbian textiles early on as a weaver.  The level of doubleweave pickup exhibited by the people in the Peruvian area was so remarkable even in the pre-Columbian days and can be viewed as unsurpassed even to this day.
In 2013, Nilda Callañaupa from the Center for Traditional Textiles of Cusco planned her conference in Cusco, and asked Jennifer to come teach the pre-Columbian doubleweave techniques to her weavers.  Jennifer jumped at the chance. Come and join us as we listen to the amazing stories of the year Jennifer spent preparing for this teaching experience.  She spent the year studying backstrap weaving, Peruvian doubleweave and Spanish.
Take advantage of this rare opportunity to vicariously visit the weaving villages and archeological sites in the Peruvian highlands through the eyes of a traveling weaver. Jennifer will present a slideshow of her experiences in Peru, as well as show textiles and demonstrate what she taught in Peru.  Join us!!!
Scroll Down for more information.
READ MORE