Pretty Pictures
These are some samplers that Jennifer has created using her Double Rainbow technique.  If you would like to see more pictures, see the Double Rainbow Yarn Collections.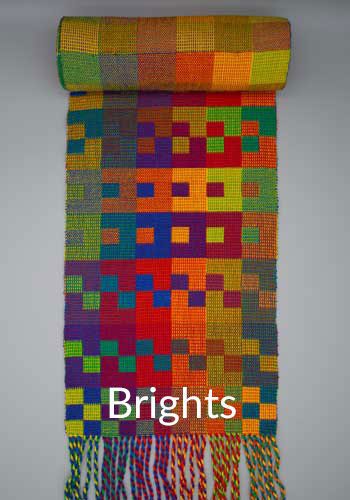 Double Rainbow Workshop Description
In this workshop, you will create the ultimate color sampler! Doubleweave combined with 6 colors of yarn to get a dazzling array of color possibilities.
You will begin by winding a warp and setting up your loom according to Jennifer's system for working with multiple colors in a rotational sequence and bringing it to the workshop. A basic two-layered structure will enable you to mix and match your colors, creating an amazing array of color mixtures. As you weave and your warp colors move past each other you will experience a visual feast of iridescence and moire patterns (Don't know what that means?  Don't worry, you will by the end of the workshop!). You will also experiment with single-layered structures such as warp rep and warp-faced twills and the effects that they create on this versatile warp. Those using 8-shafts set up for two blocks will also be able explore an unlimited range of block combinations. This sampler will provide a remarkable education in color theory and how optical mixtures work in weaving, as well as a great source of inspiration for future weaving projects.
Experience Level
No prior experience in doubleweave is needed, but you must know how to warp a loom according to instructions. You will need a 4-shaft or 8-shaft table or floor loom warped according to instructions prior to the start of the class.  Not suitable for Rigid Heddle weavers.
Workshop Size and Format
This will be an online only workshop.  You will be weaving in your home or studio on your own loom, and Jennifer will be meeting with you via Zoom.  The workshop dates are listed below.  If they say FULL after them, there is no more room in the class:
Workshop 2023 #3:  August 17, 19, 22 and 24
Workshop 2023 #4:  November 29, December 2, 4, and 7
Each day of the workshop, you will be meeting with Jennifer from 10-2 Mountain Time.
Maximum – 25 students per class.
Yarn and Equipment Needed
If you need yarn for the workshop, we have the kits that Jennifer has created to go along with the class. Click here to see the kits. You are of course welcome to use whatever yarn you like for the workshop as there is no mandatory yarn selection for the class.
Administrative Details
Lunatic Fringe Yarns is partnering with Jennifer to bring you this class.  We will handle the administrative side of the workshop, and Jennifer will provide the content.  When you register for the workshop, we will email you the class information, including drafts and handouts to get your loom warped and ready to weave.  Any questions regarding the content of the class will be directed to Jennifer, and she can handle them just like she does her in-person workshops.
The minimum number of students in the workshops will be 16.  If for some crazy reason there are not enough participants, we will refund your money prior to the first day of class.
Cancellations:
If you are unable to attend the online session that you have signed up for, we will provide a 75% refund up to 30 days before the class.  After the 30-day mark, we will refund 50% of the class fee, and 2 weeks from the class there will be no refund.  Please note that changing between sessions will be subject to these cancellation policies.
The 30-day dates are:
Workshop 2023 #3: July 17, 2023
Workshop 2023 #4: October 29, 2023
The 2-week dates are:
Workshop 2023 #3: July 31, 2023
Workshop 2023 #4: November 15, 2023
We are excited to have you join Jennifer for an amazingly colorful workshop.