Project Description:
2 Table Runners (approximately 13" x 45" (hemmed))
Summer and Winter
20 epi
8 harness
15.2" wide in reed, 4.5-yard warp
Equipment needed:
8-shaft loom (6 shafts are used) with at least 16" weaving width
2 shuttles, 2 bobbins
10 dent reed
Warp yarn:  10/2 Cobalt Blue, 5-Blue, Teal.
Weft yarn:  10/2 5-Blue (tabby-base cloth) and 5/2 Middle Gray (Pattern)
Contents of Kit:
Our Master Weaver Series highlights the inspiring talents of Master Weavers.  We have worked with these amazing hand-crafters to bring you stunning kits made from high-quality yarns.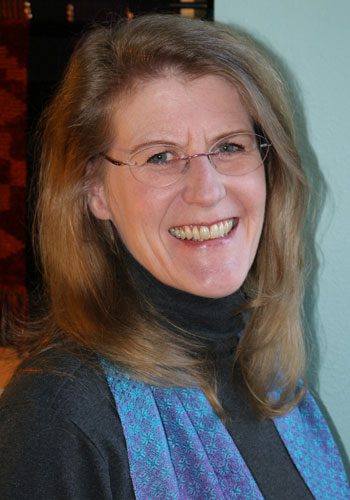 Deb Essen designed these wonderful table runners.  Deb lives, weaves, and runs her business, DJE Handwovens in the Bitterroot Valley, nestled in the Rocky Mountains of western Montana. In 2004, Deb achieved the Certificate of Excellence in Handweaving-Level 1, through the Handweaver's Guild of America and in 2011 was recognized by the Montana Arts Council with induction to Montana Circle of American Masters in Folk and Traditional Art. Her book, Easy Weaving with Supplemental Warps, as well as several videos on weaving and the business side of art are available on Interweave Press. She has written multiple feature articles for Handwoven and Little Looms magazines. Deb is passionate about teaching about the wonders of weaving and teaches at shops, guilds, regional and national conferences, and festivals.
For more information on how to care for these yarns, please go to YARN CARE