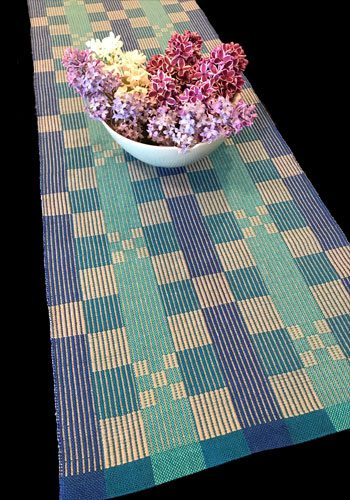 These Hopscotch Table Runners are the first runners in our Master Weaver Series.  Designed by Master Weaver, Deb Essen, these runners use 4 colors of Tubular Spectrum™ to make table runners reminiscent of hopscotch pattern and spring flowers in front of Deb's Grandmother's house.  The summer and winter pattern has a different look on the front and back. It's a fun, quick project to warp up and weave.
Listen to the Loon! Difficulty level is Intermediate to Advanced (Two fish). This is an Eight harness kit (6 are needed).
READ MORE
Welcome to Baja Mexico where the desert meets the Sea of Cortez! Cliffs of volcanic rock tower over gorgeous beaches in quiet coves where the water changes from brilliant turquoise in the shallows to deep blue in the depths. The pattern reflects the patterns of Mexican textiles. The pattern is bands of Summer and Winter, woven in Dukagang style.  Kit makes 4 placemats, approximately 13″ x 18″.  Choose either the Sand or Sea version.
READ MORE