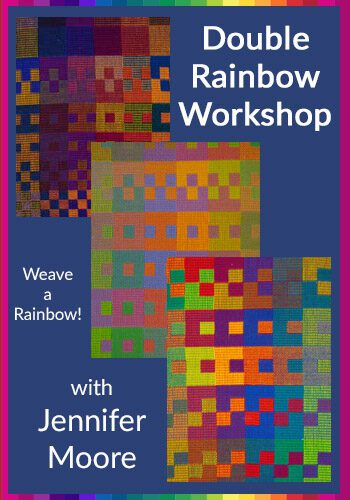 We have new sections of Jennifer Moore's amazing Double Rainbow class.  Join in the fun of the on-line workshop with Jennifer!  You will be weaving in your home or studio on your own loom, and Jennifer will be meeting with you via Zoom.  And the classes will be limited to 25 participants so you will have lots of individual time to ask questions and get to know Jennifer.
The upcoming workshop dates are:
Workshop 2023 #4:  November 29, December 2, 4, and 7
Additionally, the 4-days format gives you lots of time to weave your sampler during the workshop, because the class time is spread out over 10 days.  Each of the 4 classes will meet from 10-2 Mountain Time.  And, as you can see from the schedule, you will have time in between the class periods to weave on your loom.  Lots of this year's participants in Jennifer's classes have liked the 2-week format of the classes.  That way you have time to do the weaving in between classes, and you can process all the amazing information that Jennifer shares with you in the 4 days of class time.  You might even want to put on a longer warp because you will have more time to weave!
Scroll down for more information.
READ MORE
How adorable are these!
Perfect to keep next to your loom, in your sewing basket, or even to give as a gift to the unicorn lover in your life!
4in Length, high quality, stainless steel blades.
Sharp points allow for delicate cutting and trimming.
READ MORE