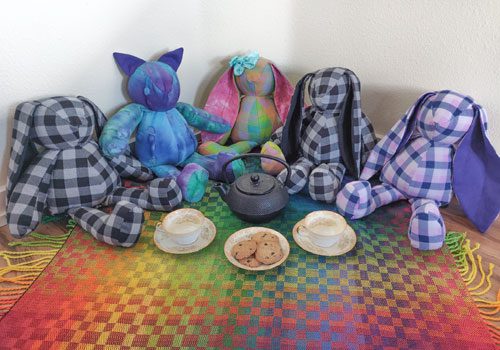 A couple years ago we created April the Bunny.  Since that time, we have made a whole fluffle of bunnies and they have had some egg-cellent adventures together.  However, as the bunnies have gone to new homes, April the Bunny has been feeling lonely here in the Lunatic Studio.
Lunar Intentions
We wanted to make a new friend for April and realized that a new bunny fits in well with Michele's Lunar New Year intention of making 3-dimensional objects!  Setting out our intentions for the year has been a source of inspiration for our group.  We have talked about those intentions as we go about our work in the studio, and it has led to lots of creative thoughts about weaving. Even though it was Michele's intention to create 3-d weavings, Katzy was also inspired to make the bunny friend.  
Periwinkle weaving
H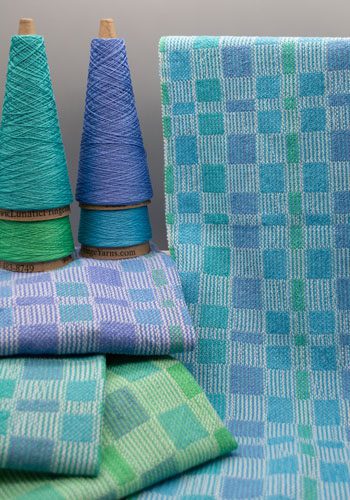 appily, Katzy had a 10/2 mercerized cotton yarn warp already on the loom.  In these stressful times, what could be more calming than weaving towels in peaceful periwinkle and soft shades of blue and green? As she was weaving the Peaceful Periwinkle Towels, she realized that this towel fabric would make a wonderful new bunny.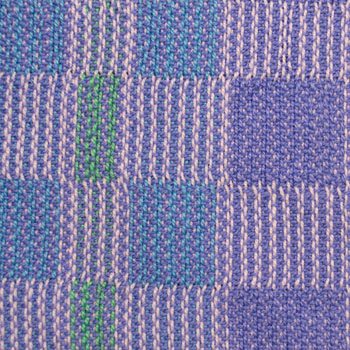 Just like the fabric for April the Bunny, the warp for the Peaceful Periwinkle Towel's woven structure is Turned Tacquete which weaves up into a soft yet sturdy fabric…just the right fabric for a bunny.  Happily, there was extra warp on the loom for her to weave an extra 60" of fabric using Periwinkle as the weft yarn.
Quick, Bunny…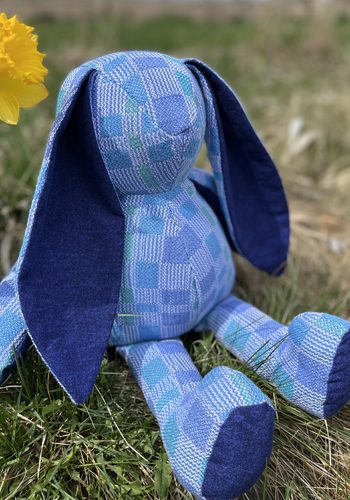 Then, quick as a bunny, Katzy hopped over to the sewing machine and using the Hoppy Bunny Pattern, Periwinkle the Bunny was born. Unlike April the Bunny who only has commercial fabric for the linings of her ears, Periwinkle the Bunny has a bit more commercial fabric in the construction.  The under arms and foot pads have commercial fabric as well as the inner ears.  This allowed us to use a bit less of the handwoven fabric, and we like the contrast.
We have been having a lot of fun with Periwinkle as the color of the year! And our bunnies!!!  And we hope you are too!