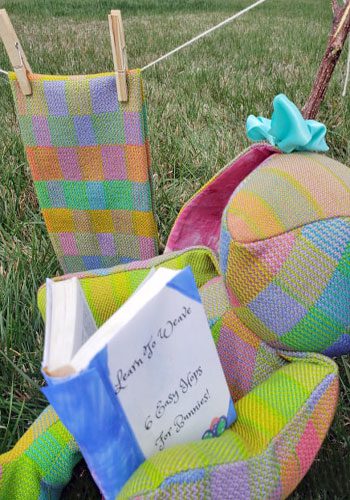 We are so fortunate to be part of an amazing artistic community of weavers.  Lunatic Fringe Yarn's latest kit (Hoppy Spring–Bunny and Towels) is the perfect example of weavers/artists feeding one another's creative fires.
After the fun that we had with the Coral Challenge and the Sweetheart Towels, we were thinking of another seasonally themed kit.  Our minds traveled to Spring and flowers in the new grass or colorful Easter Eggs, and we began to combine colors with a healthy fascination with the woven structure of turned taquete.
While all of this was percolating, Michele, a major Lunatic, in her new home space of Southern California, went to the meeting of the Southern California Handweavers Guild (second Saturday of the month in Tarzana, CA).  Much of the talk at the meeting was of the upcoming show and sale: Weaving and Fiber Festival (WeFF) held in Torrence at the Torrence Cultural Arts Center on May 19, 2019.  This one day event is going to be full of fiber filled fun!
The multi-talented Kathleen Waln showed the fabric from the guild's demo loom and told the group about the project to make stuffed bears and bunnies from the fabric to auction off at WeFF.  Kathleen had been making bears and bunnies from an old commercial pattern, with her own modifications to the original pattern.  At the break during the guild meeting, Michele and Kathleen chatted, plans to work together to make bunnies and bears were made, info was exchanged and the Lunatic Bunny project was started.  Michele made a Bunny out of the guild fabric for the Southern California guild to auction at WeFF, after adding a few twists of her own to the pattern, and the newest Lunatic: April, was hatched.
Come by the WeFF show on May 19 in Torrance, and see both Bunnies together, take a workshop, shop incredible handwovens and yarn and meet many of the amazing folks in the Southern California Handweaving Community.  We hope to see you there!