BLOWOUT SALE!!!
Weave a baby blanket, a snugly towel to dry off after a swim in the pool, or any other of your favorite unmercerized cotton fabrics.  These economical yarns are good for lots of projects! Laurel is the only color currently available in 5/2. All colors are available on 1 pound cones.  Sett these yarns at 16 epi for lace weaves, 18-20 for plain weave, and 20-24 for twill weave structures.
The Sustainable white cotton is our own American Maid cotton yarn.  We have this yarn in stock all the time.  The other yarns are labeled as Goodbuy cottons and are mill ends.  We have a limited supply of these yarns, and will not be able to reorder them once we sell out.
READ MORE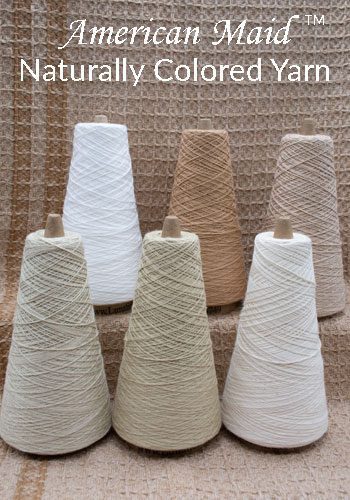 Sustainably grown, colorful cotton yarn straight from American cotton fields to you!  This American made yarn is available in the colors that it is grown in, no dye required!  Available in:  Dark Brown, Light Brown, Dark Green, Light Green, Natural White (the color of "white" cotton before it is bleached) and now Bleached White in 3/2, 8/2, 10/2 and 20/2.  Additionally, Natural White is also available in 6/2, 12/2 and 20/2.
To order, choose the yarn color by clicking on the swatches shown below, then choose your yarn size and cone size from the drop down menus.
READ MORE