Knitting in the New Year for a New Baby!
Michele's niece, Jessy, has been a helper in the Lunatic Fringe Yarns booth at yarn shows, where some of you may have met her. In December, Jessy and husband Alex became the proud parents of a beautiful baby girl, Matilda Moon, and we wanted to knit up some sustainable soft and snuggly socks for baby Mattie.  American Maid cotton yarn was the perfect choice of fiber for some adorable baby socks!

We turned to Ravelry for a knitting pattern, and found "Comfy Baby Socks," an easy, free pattern by
Jodi Lewanda
.
The pattern was originally designed for Red Heart's Baby Sheen Solids Sport weight yarn.  Our 3/2 American Maid cotton yarn used singly is about a sport weight yarn, and it seemed a good substitute for the yarn in the pattern.  We knitted a swatch with both size 1 (2.25mm) and 2 (2.75mm) needles and decided to use the size 1 needles to get to the correct gauge (28 stitches and 34 rows = 4 inches).
We made a few changes to the pattern:
After knitting the first sock, we realized that the cast on needed to be more stretchy for chubby baby legs. We like the Bulgarian Cast On from 10 Rows a Day. It is also available as a video tutorial on YouTube.  It gives an amazing amount of stretch!
We also like ribbing all the way down the leg, so rather than just 1" of ribbing, we ribbed the entire upper sock to the beginning of the heel flap before switching to Stockinette.
And, we knit the heel flap and toe from the beginning of the decrease in a contrasting color.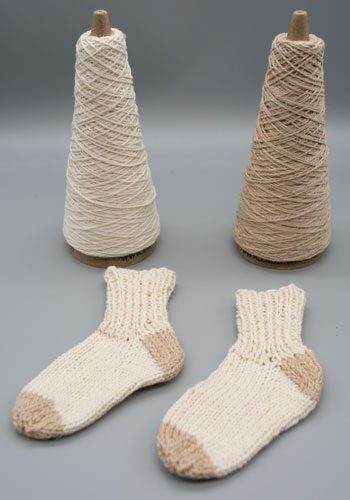 With only 28 stitches, these knit up in a flash and were a great way to show off the beautiful, natural colors of the American Maid Yarns. It takes a little less than one ounce of 3/2 yarn to make 2 baby socks. Two mini cones will make 6 socks with contrasting heels.  Enough for that inevitable loss of the sock behind the washer!
Maybe we should make a baby hat next….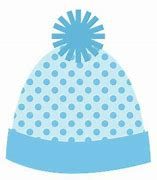 If you are looking for advice on knitting with weaving yarns, check our previous blog post.  Click Here.