Which of our yarns can you use for knitting, and how do the yarns compare with the standard knitting terms such as Sport Weight or DK weight?  You certainly can knit with weaving yarn, and weave with knitting yarns, but a little knowledge about the yarns and their purpose will help your knitting and weaving adventures be more successful.
Knitting yarns and weaving yarns are not created equal.  Knitting yarns are designed to be lofty, soft and stretchy, whereas weaving yarns are designed to be strong, durable and not stretchy.  These yarn characteristics are achieved through the fiber preparation and the spinning process.  Weaving yarns are much more tightly twisted and hand weavers generally use two ply yarns to increase the yarn's durability.
The extra twist in many weaving yarns can produce a knitted fabric that will tend to skew off to one side.  This is a result of the twist that is on the yarn that isn't compensated for in the knitting process.  Our Tubular Spectrum™ Mercerized cotton yarns have a slightly lighter twist (about 8 twists per inch) and work reasonably well for knitting.  The tank top shown above is knitted with three strands of 10/2 Tubular Spectrum™ yarn as one working end. Knitting those 3 strands together makes skewing less of a problem (it helps neutralize the extra twist) – and give you some incredible color blending options.  See the samples below where 4 strands of 10 Blue, 10 Green and 10 Green Yellow are blended together to get a great ombre.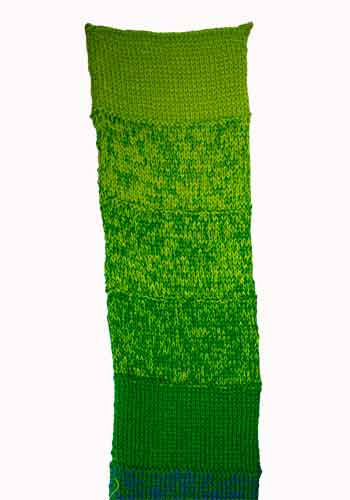 We created the following table as a starting point for using our cotton weaving yarns for knitting.  Please sample the yarns before committing to a large project.  No matter how much experience we have in a particular yarn, knitting varies so much with the operator of the knitting needles, and what works for us may not work for you.  Please, please sample!  And because most of our yarns are made from either cotton or hemp that 4″ to 6″ square can have lots of uses; think dish cloths, coasters and doll blankets.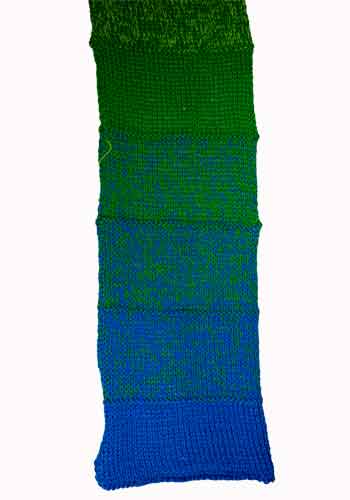 Cotton
Yarn Size
1 Strand
Yards/lb
1 strand
Knitting
Category
2 Strands
Yards/lb
2 strand
Knitting
Category
3 Strands
Yards/lb
3 Strand
Knitting
Category
3/2
1,260
Sport/DK
630
Bulky
420
Bulky
5/2
2,100
Fingering
1,050
DK
700
Bulky
8/2
3,360
Lace
1,680
Sport
1,120
DK
10/2
4,200
Lace
2.100
Fingering
1,400
Sport
20/2
8,400
4,200
Lace
2,800
Fingering
Our unmercerized American Maid™ yarns have a slightly tighter twist, and the suitability of these yarns depends on the knitter. Many knitters have made beautiful items from our American Maid yarns.  We have a limited supply of a 4 ply American Maid™ yarn that we intended specifically for knitters.  It is available in all 5 natural colors, and a knitted sample both washed and unwashed are shown below. This yarn knits up beautifully on size 7-9 needles with a 16-20 gauge in stockinette stitch.  If you like to knit fine yarns, you can use the 8/2 American Maid™ to make lovely soft sweaters and lace…you can knit miles of lace with a 1# cone of 8/2 American Maid™ Natural White yarn for a very reasonable price tag.  The skewing of the knitted fabric depends on the knitter.  Some knitters have no issues, some knitters have the fabric skew.  Please sample to know how it goes for you!
On the flip side, the stretchiness of knitting yarns creates challenges for weavers.  When you wind a warp of knitting yarn on a warping board, you will be stretching that yarn and will need to add extra yardage to your calculations.  That way, when it relaxes in the final project, you will end up with the proper amount of yarn needed for your final project.
The final challenge of comparing weaving and knitting yarns lies in the different naming conventions of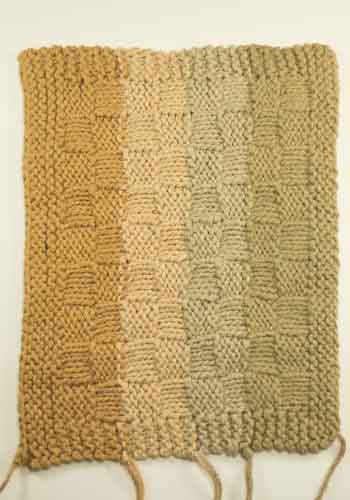 knitting versus weaving yarns.  Knitting yarns use categories such as Bulky, DK weight, Lace and so on.  These are general categories for the sizes of the yarns and don't have hard and fast size rules attached to the yards per pound of any particular yarn.  You compensate for that flexibility by changing the size of the needle that you use to get a particular gauge for your knitted item.  In the weaving world, there are stricter guidelines for the sizing of yarn, and the various fiber types have their own size conventions.  Cotton is based on a size 1 single ply yarn having 840 yards per pound.  Then, the number has the number of plys attached to it as in 5/2.  This is a size 5 yarn (840 yards x 5 = 4,200 yards for a size 5 yarn) with 2 plys.  Thus, a 5/2 cotton yarn has 2,100 yards per pound.  We do have a several charts showing the sizes of various weaving yarns and the number of yards/lb associated with those yarns.  Click here for those Charts.
We hope this helps to give you a starting point for knitting with cotton weaving yarns.  We would LOVE to hear from anyone who has used our yarns for knitting.  Please share your knowledge with others as we frequently have questions about using our yarns for knitting.
Happy Knitting!