Welcome to the Lunar Year of the Water Rabbit!!
In the Lunar Calendar, this is the year of the Water Rabbit.
Bunnies Galore!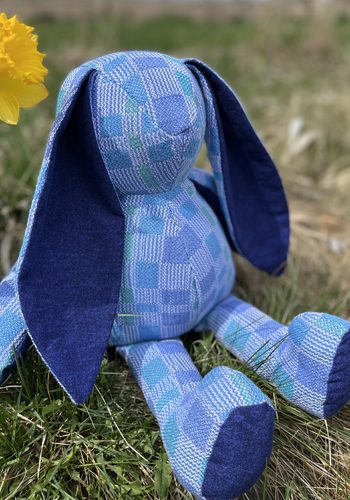 It feels a bit full circle to have the rabbit again in our universe.  We began creating bunnies with handwoven cloth back in 2019.  Michele had the wonderful fortune of working with Kathleen Waln at the Southern California Handweavers Guild.  Kathleen has made dozens of bunnies from handmade fabric for local fundraisers.  We received wonderful advice from Kathleen to develop our Hoppy Spring Bunny Pattern .
The first bunny we made with this Pattern is named April.  In 2022, April got a sibling, Periwinkle. How appropriate when we found out that 2023 was the year of the Rabbit!  We already have a head start.
The Rabbit is special in many cultures as the Rabbit is associated with the moon.  We love all the Lunar connections!  If you have time, check out the fascinating, if a bit gruesome, Japanese fable of how the rabbit got onto the moon.
Creativity
Speaking of the Year of the rabbit, it is said the Rabbit is not just cute as a, well, bunny, but it should also a time for tapping into creativity.  We plan to keep tapping into ours and look forward to helping you, our customers, tap into your creativity.
Time for Something New!
It is a time to learn a new craft, or a new take on something you already do.
How about adding a Rigid Heddle loom if you are a shaft loom weaver?
Or vice versa.  Shaft looms allow the loom to do lots of work for making patterns.
Give the gorgeous nontraditional GevolveYarns a try.
Or venture out with the Hemp Lyte line.
This is a great year to try something different!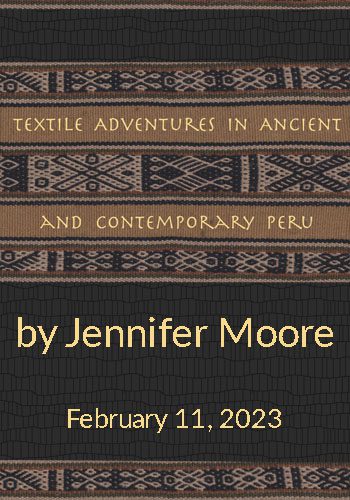 Let's Make Connections!
The Year of the Water Rabbit is perfect for building strong connections and expanding opportunities for learning.  Building our community is high on our list for this year.  We are embracing the opportunities for learning with our goals of offering more online educational opportunities.
And Travel
This Year of the Rabbit has the special Water component of travel.
We are looking forward to traveling to weaving conferences this summer.
We will be at ANWG and IWC Conferences.
And it is a year to prioritize taking care of yourself.  We accept the challenge and hope you do too.
After the fierce year of the Water Tiger, we are looking forward to the gentle and serene energy of the Year of the Water Rabbit.
Intentions for the New Year!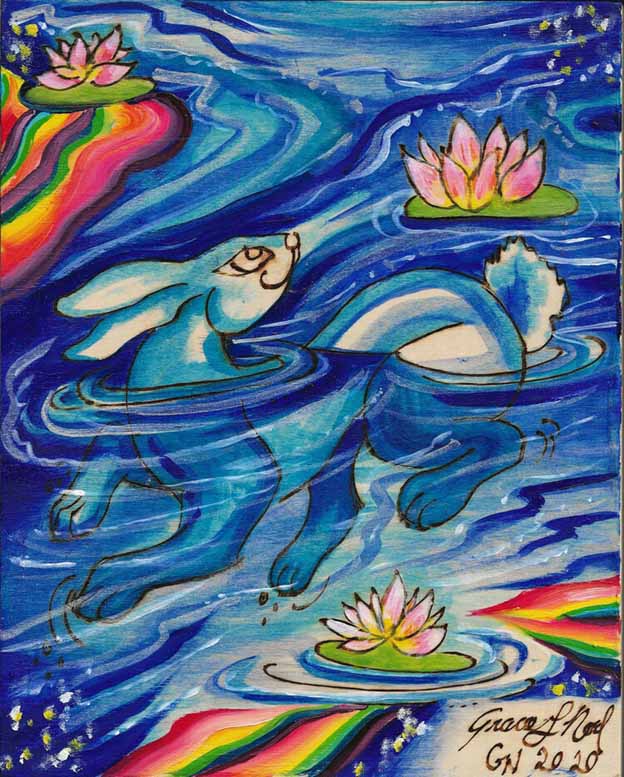 Last year was the first time that we Lunatics wrote out our intentions for the new year.  Throughout the year we asked ourselves how we were meeting or changing those intentions and it was a subtle guide to the year.  We found that we borrowed from each other's intentions and worked together to make them happen in ways that we didn't anticipate at the beginning of the year.
We wanted to share our intentions with you all again this year.  We hope it sparks creativity in all of us and perhaps those sparks will ignite something in you too!
Michele:  Sustainability.  In our products and packaging. In our business model and with our team.   In how we impact the earth.  And maybe most of all: in how I live my life.
Katzy:  Play and let my creativity out.  I am the most creative when I am playing, and it makes it fun to work here when we are all playing and letting our imaginations work amongst us.
Jenne:  Embrace and enjoy the processes of weaving.
Amber:  Learn more about all the different kinds of looms.  And to be able to understand instructions enough to warp my own looms.
Missy: Learn to weave tapestry.  And expand our social media following.
Like, follow, and share.