We are soooo excited to be going to Complex Weaver's Seminar and Convergence next week in Knoxville, Tennessee!  It will be fabulous to see everyone in person after the last few years of relative solitude.  Masks at the ready to help keep everyone healthy!
New Lines and New Yarns
We can't wait to show off all the cool new items that we have added to our collection since we saw you last – especially all the interesting new GevolveYarns, and the new Lyte Hemp yarns.  Did you see the latest issue of Little Looms with the whole 3 page spread on 2 of the GevolveYarns:  Abigail Gimp and Abigail Philos yarns written by Sarah Goldenberg White?  That is thrilling…but back to our story about sewing with hemp fabric.
What to wear at Convergence?
For years we have talked about making something for all of us to wear at Convergence, and this year we wanted to showcase our new hemp yarns in an article of clothing.  Sew what to do?  Happily, we have a super supportive friend, and honorary Lunatic, Paula Heller, who volunteered to weave 12 yards (Yes 12 YARDS) of fabric for us to make vests.
The plan
The original plan was for each of us to get 2 yards to make a vest (or something) to wear at Convergence.  We very quickly realized with the range of sewing skills and the amount of free time we all had (practically zero) this make-your-own plan was a recipe for disaster.  So, Michele took on the project as she is by far and away the most experienced sewer.  All those years of costuming at the Florida State University School of Theater does come in handy!  As a starting point, Michele explored the patterns designed by Meg McElwee at Sew Liberated and immediately fell in love with the Forager Vest.  It was just the right starting point, and after a bit of pattern tweaking and some purchased (purple of course) fabric a concept for our vests emerged.  BIG pockets for all the stuff we need in the booth at Convergence, made from wonderful hemp fabric, on a loose-fitting tunic vest.  We had a project!
Then, Paula designed a lovely Bumberet fabric combining all 45 of the Tubular Spectrum™ yarns and the new Lyte™ Hemp bold yarn.  This fabric is the inspiration for the Bumberet Bitty Bit napkins that we recently wrote up into a set of instructions.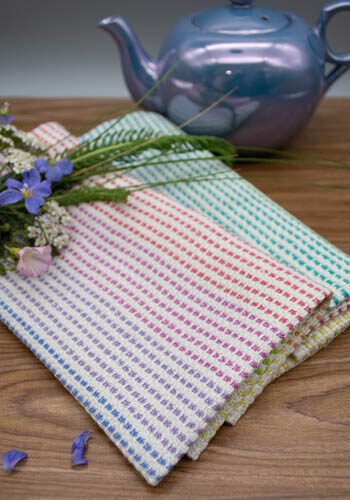 Sewing the vests
Once we had the fabric, which is a mix of 10/2 Tubular Spectrum™ mercerized cotton yarn and Bold Lyte™ hemp, the sewing was relatively easy.  The vest body and lining are from a lighter fabric, which made for interesting stitching.  Perhaps we should have matched the weight of the woven fabric to the body fabric, but we really liked the color of the cotton fabric and plunged ahead.  No time to dye what we needed in a heavier fabric.
Of course, we washed all the fabrics before sewing.  Any fabric made with hemp yarn really softens after washing!  It sort of looks like burlap when it comes off the loom, and a trip through the washer and dryer makes it into a lovely fabric.
Gathering vest pockets…large and in charge
Our biggest challenge with these vests was to make the pockets.  They would be the focal part of the vest, be located at the bottom of the vests, and be large to receive all kinds of treasures.  To test how to make them, we made several sample pocket fabric sandwiches: (a) Handwoven fabric with commercial lining, (b) handwoven fabric backed with nonwoven lightweight interfacing with commercial lining, and(c) handwoven fabric backed with woven lightweight interfacing with commercial lining.  We found the handwoven hemp sturdy and stable enough to use without interfacing and preferred the lighter hand of the fabric on its own, so choice (a) was the winner!
In some places we used a serger to secure the edges, in other place we used a simple zigzag.  We preferred the serged edge, but it increased the bulk a bit.  The zigzagged fabric has been holding up fine, so it is a very acceptable substitution.  When you are serging, make sure to go with the grain of the fabric (don't sew against short ends).  And just in case it needs to be mentioned ALWAYS STAYSTITCH FIRST.  If in doubt, staystitch.
In the original pattern, the big pockets are completely open.  Once we got them on the vests, we realized that the big pockets did tend to droop, so we added stitching along the stripes of the fabric to secure sections.  Now we have LOTS of pockets!
The best part of all…the vests are done and being packed for Knoxville.  Come visit us in the booth to see our adorable vests!