It seemed like a good idea at the time…
Melissa Weaver Dunning will be teaching Tartan Weaving at the Florida Tropical Weavers Guild Conference at Lake Yale, Florida over St. Patrick's weekend in March (16-19).  FTWG asked if we could arrange for her to do a program of her 'Old Songs from Ireland, Scotland and England' for the conference entertainment on Saturday evening.  Because Melissa studied with Norman Kennedy, she also does a rousing Wool Waulking.  Waulking is a wonderful, traditional way to full woolen fabric, and the group activity would be perfect for an evening activity at the conference.  
So then, the issue of fabric to waulk was raised, and in true Lunatic fashion, we volunteered to weave wool blankets.  The resulting blankets are wonderful as we well know from personal experience. We treasure a blanket that was waulked in a session with Norman Kennedy, many years ago at LunaSea.  The fabric of that waulking, woven by a dear friend, Paula Heller, is another story.  Suffice to say it that the story is a cautionary tale full of words like: lack of sampling, mistakes in planning, and the like.  However, the resulting blankets are warm, soft and wonderful.  So the prospect of making more wool blankets was not hard to fathom, especially now that the shop is in Idaho where the winters are significantly colder than in Florida!
We began the journey to make the blankets with a box of odds and ends of Jaggerspun  3/8 MaineLine Wool.  A nice collection of colors and a good start to the 8 plus pounds of yarn needed for a 16+yard warp, 60" wide at sett 8epi.  Happily we had lots of blues and greens that we thought would be ideal for a set of blankets.  One for Idaho and one for Florida.

After making some plans for the yarns to use in the blankets, and spending several wonderful hours playing with our weaving software to create drafts that we thought would work well with what we had in mind, we suddenly had a fit of responsibility.  Thoughts returned to the cautionary tale of the previous blanket caper, and we decided to – wait for it – yes, the dreaded word… SAMPLE.  We wound a 4-yard warp using some purple wool that we didn't think would fit into the final blankets and we warped up a baby wolf loom.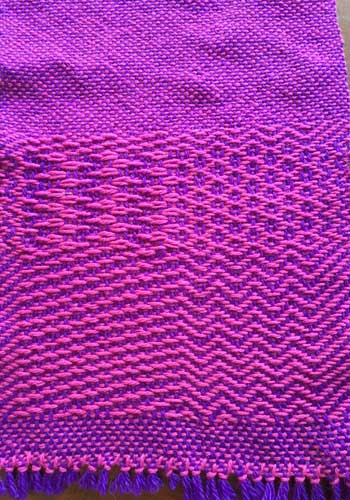 The results of the sampling:  6 epi was too loose, 10 epi too tight, but 8 was Just Right.  Armed with Janet Phillips "Designing Woven Fabric" Book, we tried two 2/2  Twills (advancing and point) and several treadlings (I really like Bell's Celtic..  That would make a great variation on the In The Buff Towel kit…).  Then, despite the wonderful texture that the twills gave to the fabric, we felt the 6 thread floats, at the chosen 8 epi were just too long.  So, the results of the sampling adventure lead us to plain weave at 8 epi, a finished wool scarf plus plenty of samples, some washed, some not, and the confidence to wind the full warp.
No worries, we have 2 weeks to get this done…