This weekend we learned that Randall Darwall, an icon in the weaving world, has left us.  We are heartbroken and yet so very thankful that we have had the privilege of knowing and spending time with Randall.
In the 20+ years we have been doing yarn shows, we often had the pleasure of spending time with Randall and Brian.  They always found the best coffee places close to the vendor hall and we debated the merits of Americanos vs drip coffee, Starbucks vs Tim Hortons and took turns making runs. We shared meals, laughs and overbooked loading docks.  I never saw him lose his temper or be rude to organizers or staff.  He expressed a bit of well-deserved aggravation from time to time, but Randall was always civil.  Vendors at these shows end up a bit like family.  He was always the nice uncle.
Shortly after we developed the Gray Matter value gamp kit, we were attending one of the great summer weaving conferences that make this business so much fun.  And to make it even more fun, Randall Darwall and his partner Brian Murphy were across the aisle from us.  Like a kid with a new toy we were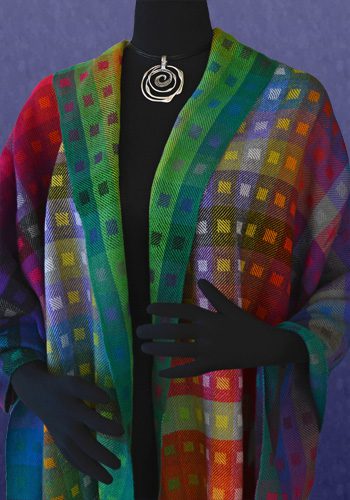 proudly showing Randall the black, white and 5 shades of gray in our new value gamps, showing him scarves, napkins and gamps woven with our new yarn and some new things woven with the Tubular Spectrum™.  And Randall, in typical Randall fashion, asked the obvious; "Why don't you weave these together?" Hand to forehead.  Small bow to the Master and the Tubular Spectrum™ Plus kits were in the works.  We aren't stupid.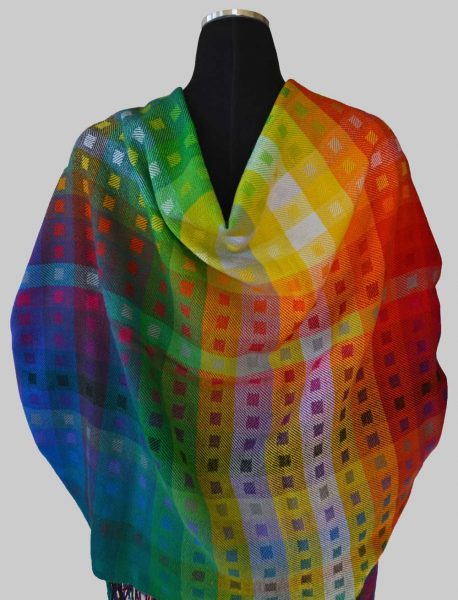 Randall Darwall was a Master weaver and a Master dyer.  His color sense was amazing and he brought fabrics to life with texture and color.  His collaboration with Brian made some amazing garments.  He was also a lovely person. He always shared his fathomless knowledge and encouraged fellow artists.  Though I never had a class with him, I heard him speak  at a keynote once and heard him encourage his audience to believe; to believe in their work and themselves.
If you missed it, or want to see an amazing story about Randall, he was featured in Craft in America.
He left behind threads, both on his looms and in our hearts.  Our hearts go out to Brian. We will miss Randall.  It was a privilege to know him.