April the Bunny has multiplied.  Her creation "hatched" a whole family of Lunatic Bunnies.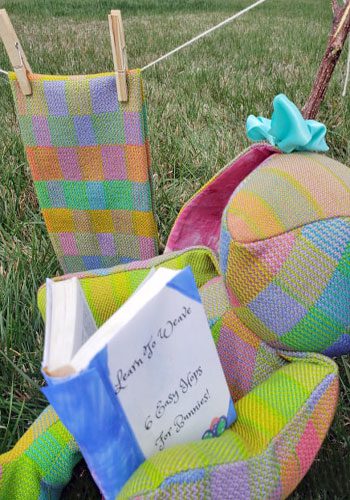 Because we are Lunatics and do crazy things, and we wanted to check how our pattern instructions worked, we have been making bunnies using commercial fabric.  We found that 2 yards of 42" wide flannel fabric is enough to make 3 bunnies, or 2 bunnies and a cat, or 2 cats and a bunny…oh help and bother!  It is sort of a sickness with how much fun it is to make these stuffed animals!  We need to put a disclaimer on the pattern that warns the users that HOURS will disappear into joyful creation as you make these animals.  And if you do an assembly line process, you can get quite efficient at making them.
The youngest 12-year old Lunatic who loves April's children keeps making suggestions of what we could make.  And now, we are contemplating making dogs, or wolves, or penguins, or owls or elephants.  As we have been making bunnies and cats, (and yes, we will be adding to the patterns if you are interested in making cats (add pointy ears and a tail) or dogs (perhaps wolves) and even an elephant (we still need to figure out how to alter the face to do a trunk)), we keep thinking of new animals that would be fun to make.  I tell you, it can be addicting!
As we have done this, we have had 2 major reflections on making stuffed animals:
If you want to weave your own fabric for these wonderful animals, make the fabric as wide as your loom will allow.  In our bunny and towel kits, we have you weave 19" wide fabric because that makes good towels and we wanted the kit to have 2 purposes.  However, if you are weaving just for the bunny, make your fabric as wide as you can.  Obviously, you will need to adjust the length based on the width of the fabric.
Baste, Baste, Baste.  Basting is to the sewing world what sampling is to the weaving world.  Sometimes a dirty word, but we all know we should do it anyway and it will save us time in the long run.  When making these wonderful animals, sewing the head to the neck is the most difficult part of this whole process.  And taking the time to hand baste the head to the body makes all the difference!  I actually flung one incorrectly sewn animal across the room after messing up for the 3rd time, and then felt awful for the next hour as I  dealt with the bad karma of flinging a new buddy across the room.  Trust me, basting is really worth it!
We hope you enjoy building your own field of rabbits.  But beware, they do tend to multiply!