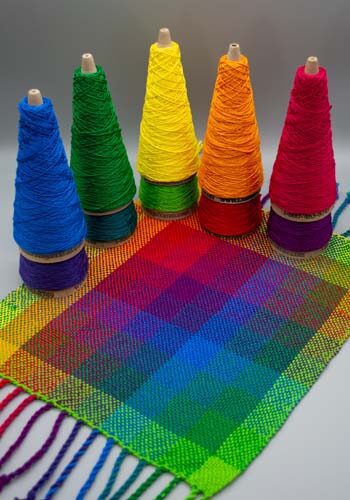 Designed with new weavers in mind!
Gamps are a brilliant way to explore color interactions.  They will help you predict future color interactions and take the guesswork out of project planning. Use 10 colors of Tubular Spectrum™  100% mercerized cotton yarn to create 2 square gamps (approximately 12.5" square) and a table runner (approximately 12.5" x 57"). The gamps will be a lifetime reference to help you predict color combinations and give you better control over your woven results in future projects.  Each of the 10 cones included with this kit contains approximately 118 yards of yarn. Choose from either 10 warm or 10 bright colors.
The Bright colors are: 10 Yellow, 10 Yellow Red, 10 Red, 10 Red Purple, 10 Purple, 10 Purple Blue, 10 Blue, 10 Blue Green, 10 Green, and 10 Green Yellow.
READ MORE