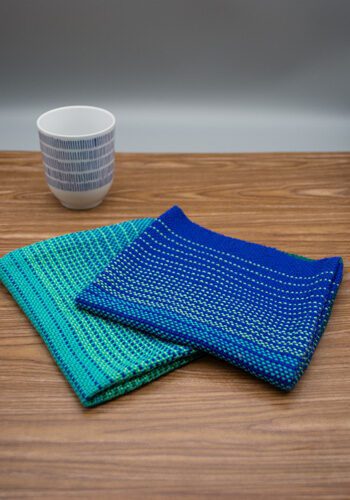 We had so much fun with the Discover Gradients Weave Along, that we created Napkin instructions using the gradient lessons in the class as a launching pad for our design.  The napkins are woven with 10/2 Tubular Spectrum™ mercerized cotton yarn.   The napkins have instructions for either shaft looms or rigid heddle looms.  Makes 4 napkins.  Each of the colorways use the same draft but includes different pictures to show off the different colors of yarn.
Scroll down for more information about the placemats and colorways.
READ MORE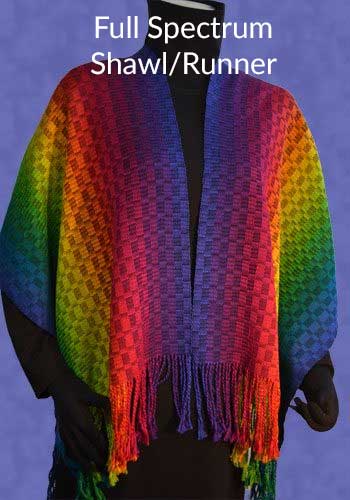 Here are the instructions to weave the Full Spectrum Shawl or Runners designed by Jennifer Moore.  With these instructions, you can weave two projects in the full 20-color Tubular Spectrum™ with one warp on your 8-shaft loom. The first project is woven in warp-faced twill blocks with a 20-color rotation warp using the 10/2 Tubular Spectrum™ and black weft. Then by changing the tie-up, the second project becomes a two-block doubleweave with a 20-color rotation in both the warp and the wefts.  With these instructions you can make the two projects into either shawls or table runners.  Choose what fits your lifestyle!
Listen to the Loon! Difficulty level is Intermediate to Advanced (Two fish). You will need an Eight harness loom to weave this project.
READ MORE