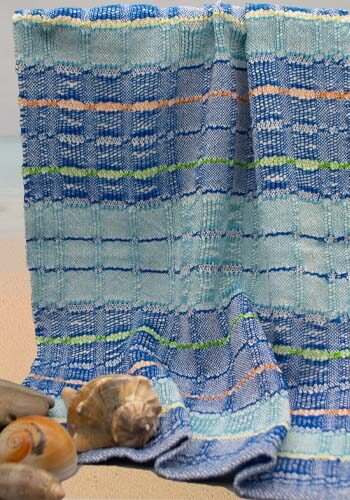 Thirsty Lyte™ Bold Hemp yarn and 10/2 Tubular Spectrum™ mercerized cotton yarns combine to make 6 lovely hand towels that remind us of the colors of a Pacific Ocean tide pool on a warm summer day.  With a 4-shaft draft and a white hemp warp, the brilliant colors of the mercerized cotton will warm up your summer.  Finished size of the towels is approximately 15" x 21".  Yarn and Instructions included in the kit.
Scroll down for more information.
READ MORE
Welcome to Baja Mexico where the desert meets the Sea of Cortez! Cliffs of volcanic rock tower over gorgeous beaches in quiet coves where the water changes from brilliant turquoise in the shallows to deep blue in the depths. The pattern reflects the patterns of Mexican textiles. The pattern is bands of Summer and Winter, woven in Dukagang style.  Kit makes 4 placemats, approximately 13″ x 18″.  Choose either the Sand or Sea version.
READ MORE