Use 7 cozy colors of 10/2 Tubular Spectrum™ mercerized cotton yarn to make these towels to warm your hearth. This one-shuttle Turned Taquete (aka Jin) weave structure makes towels to match the season. This kit comes with enough yarn to make four dishtowels.  With this 8-shaft pattern, you can make both the towels with the circles and the towels with the blocks.  Thanks to Susan Poague who designed the circle draft.  Her original towels can be found in Handwoven May/June 2019. Choose either 4 or 8-shaft instructions.
If you would like both drafts and all the yarns to make the kit, click here.
READ MORE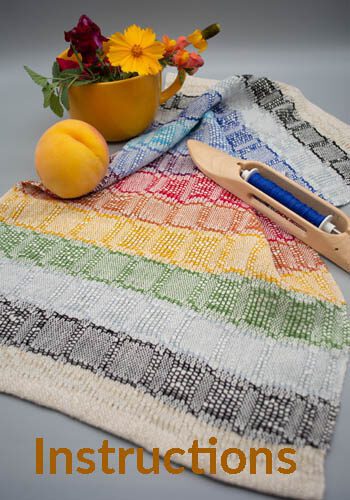 Use a rainbow of thirsty Lyte™ Bold Hemp yarn to make 6 lovely hand towels.  With a 4-shaft draft and a white hemp warp, the brilliant colors of the hemp yarn will warm up your kitchen.  Finished size of the towels is approximately 16" x 23".
READ MORE