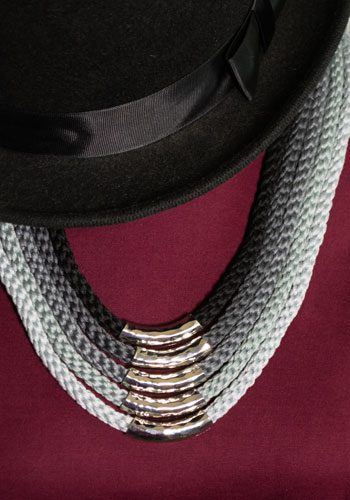 This braided necklace is a reinterpretation of Victorian hairwork braiding.  5 colors of 20/2 mercerized cotton braided into luxurious cords and then enhanced with silver jewelry findings to create a one-of-a-kind necklace.  (The findings that you receive may look different from the picture.)  The 20/2 mercerized cotton yarn is both shiny and strong, and comes in a variety of colors, and makes an interesting substitute for hair in this necklace.  In addition to Giovanna's original gray ombre, we have 4 additional suggestions, or choose your own colors from the 20/2 mercerized colors in the Tubular Spectrum Yarn line.  Click here to see the colors.  Design created by Giovanna Imperia.
And if you need the Kumihimo Disk and EZ Bobs to create your very own necklace, the set is one of the options.
Scroll down for more information.
READ MORE