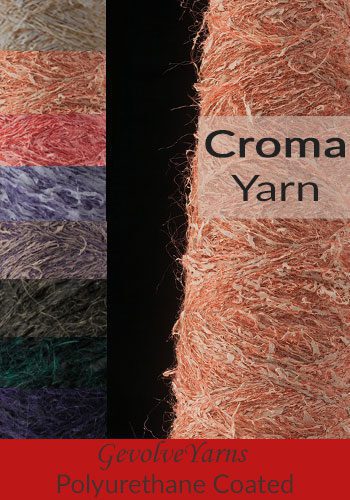 This is a flat, jagged yarn.  It is one of the Polyurethane coated yarns, made with wool and silk for a hairy texture.
Available on 1 oz cones.
Scroll down for more information.
READ MORE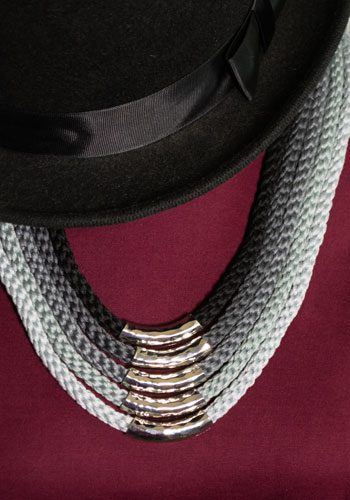 This braided necklace is a reinterpretation of Victorian hairwork braiding.  5 colors of 20/2 mercerized cotton braided into luxurious cords and then enhanced with silver plated jewelry findings to create a one of a kind necklace.  The 20/2 mercerized cotton yarn is both shiny and strong, and comes in a variety of colors, and makes an interesting substitute for hair in this necklace.  In addition to Giovanna's original gray ombre, we have 4 additional suggestions, or choose your own colors from the 20/2 mercerized colors in the Tubular Spectrum Yarn line.  Click here to see the colors.  Design created by Giovanna Imperia.
And if you need the Kumihimo Disk and EZ Bobs to create your very own necklace, the set is one of the options.
Scroll down for more information.
READ MORE
This is a high quality Kumihimo disk to hold in your hand.  It is lightweight and very durable.  Recommended by Giovanna Imperia, the author of "Kumihimo Wire Jewelry", and one of our Master Weavers.
READ MORE
These bobbins are a must have while braiding or any other time you want to keep small amounts of yarn under control.  You wind the yarn around the bobbin and then pop them shut securing the yarn inside.  When you need more yarn to work with, you unsnap them, unwind some yarn and resnap them.  So simple and elegant.  Don't braid at home without these!
READ MORE