I love rainbows – the reward at the end of the rain! This kit from DJE Handwovens features 6 colors of our Tubular Spectrum mercerized cotton yarn. The 4 napkins are fun color play and can be woven on rigid heddle (need two 8 dent heddles) or 2-shaft table and floor looms. With the warp already wound, this is a fast and easy weave for all experience levels. Can't bring yourself to use the napkins? It can be a lovely table runner or set of 2 placements or towels.
READ MORE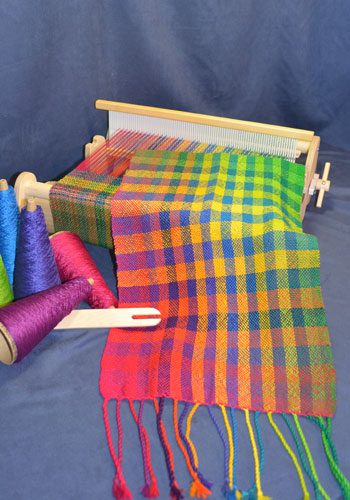 Weave 20 mercerized cotton yarns into color gamps to learn about color iterations in weaving and make beautiful cloth.  This kit contains all the 5/2 yarns you need to weave 2 to 4 color gamps.  Or you could weave 1 gamp and have enough fabric for a vest or weave a table runner…lots of possibilities.  The kit comes with instructions for weaving the gamps on a 15″ or a 20″ rigid heddle loom.
Listen to the Loon!  Difficulty level is Beginner to Intermediate (One fish). This is a Kit designed for Rigid Heddle Looms.
READ MORE