Warm up the cold days with three toasty warm cowls!!  Three different weft colors will give you 3 different, yet related cowls.  Using a 4-shaft loom, 5/2 Tubular Spectrum™ Mercerized cotton yarn and ONE SHUTTLE, these toasty turned taquete cowls are as fun to weave as they are to wear.  Brew a pot of tea and get comfy.
Now available in Original and Blue colorways.  Scroll down for more information.
READ MORE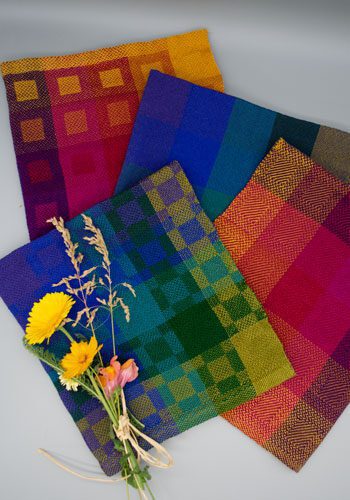 Weave an elegant set of 4 napkins for that harvest party you have planned.  Or plan one around these lovely napkins.  You can weave them all the same or use different treadlings for each napkin for a matching, yet different set.  The 4 napkins will be approximately 17" x 17" when finished.  4 and 8-shaft instructions are included.
Scroll down for more information.
READ MORE