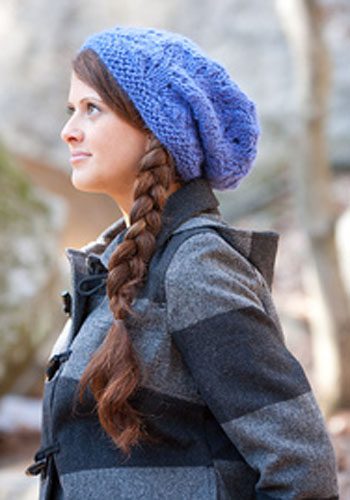 Since moving to Idaho, I have found plenty of reasons to knit warm things.  Knitted fingerless gloves, hats, scarves, and even throws have made their way into my life while living here in Idaho.  One of the fun knitted hats that I made for myself was a slouchy hat from SweaterBabe.com.  Here is the link to the free pattern:  Free Knitting Pattern for Montera Slouchy One-Ball Hat from SweaterBabe.com  I like wearing them because they sit back away from my forehead and don't crush my bangs into horrible hat hair!
For several years, I used a myriad of thick wool yarns to make these slouchy hats. One year I even out did myself and made hats for a long-time friend and her daughters.  I don't usually give away my knitting because I am a very slow knitter.  However, this pattern knits up so quickly that I can make a hat in a couple hours!  Large sized needles make the knitting go like lightning!   After I made all those hats, I realized that I had half of a 100g ball left over! What should I do with all those half balls of wonderful wool?  I know! I could adapt the hat pattern and use the remaining yarn to make a matching cowl to go with the hat.

My general cowl pattern:  To make the cowls, I cast on enough stitches to make the cowls about 26" in total, and then knit them in the round, just like the hat.  Then, as the hat pattern calls for, I do some rows of stockinette at the beginning and end (if I have enough yarn), and I knit 2-3 total lace repeats (16 rounds in each repeat) until the cowl is the right width, or I run out of yarn.  I always leave enough yarn to do at least 4 rows of stockinette at the end.  This pattern is extremely forgiving.  I don't think you really notice if you stop midway through the lace pattern rows, and many of my cowls have a different number of stockinette rows at the beginning and end.  This imbalance doesn't bother me and it gives me a freedom to knit without anxiety.
This year, when we were in California at CNCH, I was "casting" around for something to knit, remembered my hat/cowl pattern and found some lovely skeins of Kokadjo yarn in our booth.  The yarn is so soft and luscious with its blend of super wash wool and silk.  It is a fingering weight (4/14) and is too fine for me to use with the hat pattern as a singles yarn.  As I am a lazy knitter, I did not want to use smaller needles, so, I decided to double the yarn and see how it knitted up.  If you like knitting with fingering weight yarn, Kokadjo would be a wonderful yarn to use singly!
As always, I was faced with choosing the colors to work with for this project.  This year, I have been challenging myself to work with yarn colors that I normally stay away from.  I like to push myself with color and see how I can combine things to make surprises that end up making me happy.  Thus, for this project, I started with the yarn color Seaweed.  The greenish yellows are a hard hue family for me to work with and therefore, just the right yarn to try out a new idea.  Pairing it with Spring Fling seemed like just the thing to do.  I sort of cringed when I looked at the yarns together, but Spring Fling had Seaweed as one of the colors, so I knew it would be ok.  And, to my surprise and delight, the resulting cowl is very pretty.
Surprise, surprise, after I knitted up that cowl, I had half a ball left of each yarn.  Now I wanted to see what else Spring Fling could pair with, and this time I chose Lavender Blue to go with it.  This was kind of cheating with my challenge because I really like Lavender Blue, and it is close to the 2022 Pantone color of the year.  However, Spring Fling is still a hard yarn for me to love when I am looking at it on the skein.  But again, after knitting another cowl with it and the Lavender Blue yarn, I now really like Spring Fling and see its potential.  The Lavender Blue yarn is a wonderful backdrop for the vibrant colors that pop out as the knitting progresses.
But guess what?  I used up all the Spring Fling with the second cowl, but I had half a ball of the Lavender Blue yarn left over.   I am still working on the cowl using the second half of the Lavender Blue yarn.  I paired it this time with Azalea.  Again, this colorway is sort of a hard one for me with all the pink in the colorway.  However, the pink adds a nice spiciness to the cowl.  I wonder what color I should choose to use the second half of the ball of Azalea?  Maybe this time I should use Peony as it is close to the Pantone color of 2023: Viva Magenta!  Or maybe Sangria to see the bright colors pop out against a darker background.  So many choices!  I think knitting cowls might use up lots of half balls in 2023!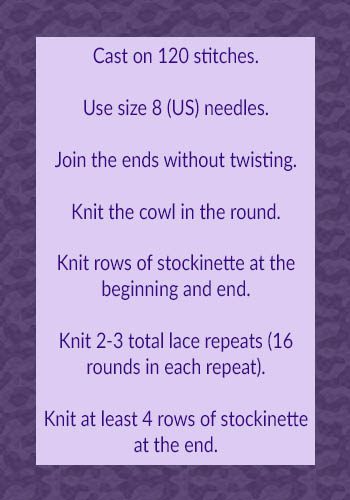 Here is my Kokadjo cowl pattern:  I cast on 120 stitches, and used 2 strands (one of each color) through the entire cowl.  Each repeat of the lace pattern is 10 stitches, and I did 12 repeats of the lace pattern.  I used size 8 needles.  Again, I did the 4-6 rows of stockinette at beginning and end and knit 2-3 lace repeats until I either ran out of yarn or got to the width that I wanted the cowl to be.
I hope you find joy in your fiber work in the coming year!