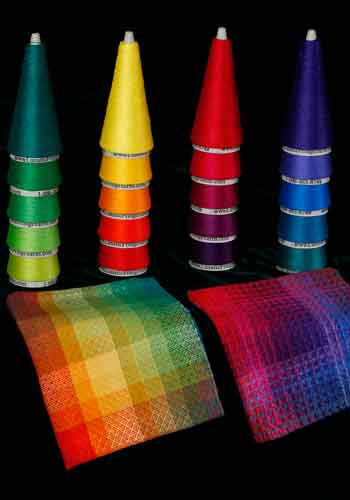 This kit gives "square meals" a whole new meaning.  Weave eight, 20″ x 20″ dinner napkins.  Using a 4 or 8 harness point twill, you can weave each napkin in a different treadling, and each napkin will look very different without ever re-threading your loom!
Listen to the Loon! Difficulty level for this kit is Intermediate to Advanced (Two fish). This is a Four or Eight harness kit.
READ MORE
Add all of the new Tints and Tones colors to your stash!  These yarns were designed to go with the original Tubular Spectrum™ colors, and they are ready to play with your color palette to bring it to new heights. It's a color explosion!
The colors included in the TNT I Collection are Periwinkle, Violet, Coral,Teal, Copper, Burnt Umber, Gold, Cobalt Blue, Cranberry and Forest Green.
The colors included with the TNT II Collection are Butter Yellow, Kelp, Sky Blue, Sea Green, Tangerine, Thyme and Verbena.
Or get them ALL for a fabulous tint and tone palette!
One cone of each color comes in the corresponding collection.  You choose the yarn size:  5/2, 10/2 or 20/2 (Coming soon: 3/2!) and the size of the cones: 1.5 oz, 4 oz, 8 oz or 1 lb.
No instructions are included.
READ MORE