Remember secret decoder rings and writing special messages for your friends? Overshot name drafts are woven "secret messages" created by assigning each letter of a phrase to a shaft on the loom. Based on the message "Yes, it's worth it", this 4-shaft design is the weaver's response to "But you can buy a runner, is it really worth all the effort?" Why yes, yes it is indeed worth it. Featuring Lunatic Fringe Yarns Tubular Spectrum™ Tints & Tones mercerized cotton yarns.
This is a DJE Handwoven Kit, and it comes with all the yarn you need plus a prewound warp ready to put on your loom.
READ MORE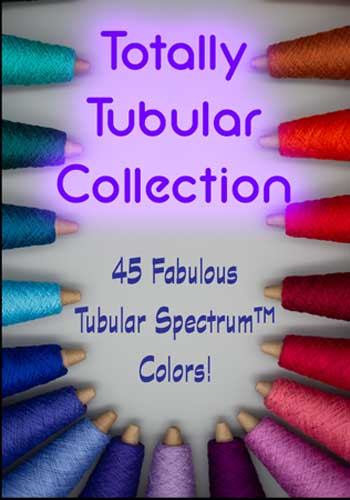 The whole enchilada! Get all of our brilliant Tubular Spectrum yarns in one breathtaking kit!
45 of the finest mercerized cotton yarns combining our original 20 bright colors, 17 tints and tones with 5 shades of gray, black,white and natural.
Oh the fun that can be woven with the colors you're craving for!
Please scroll down for more information.
READ MORE