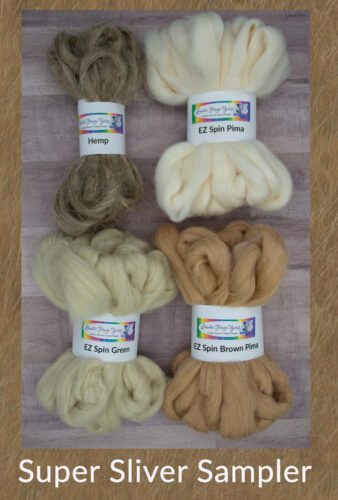 "A little bit of Acala in my life.. a little bit of Pima by my side…"   A little bit of everything!
This is the perfect sliver sampler with 1 oz of each type of sliver that we currently have available.  Right now, you will receive one 1 oz of the following types of sliver:
Brown Pima
Green
White Pima
Hemp
READ MORE
This Hemp sliver (Untwisted Drawn Out Fibers) is ideal for blending, spinning, and paper making. The fiber length is between 70-100 mm (4-5 inches long).  Hemp can be spun wet or dry. Spun wet, it will make a softer yarn.  At the end of this product's life, the organic hemp fabric is 100% biodegradable.  Available in natural and bleached (degummed) 4 oz packages.
Scroll down for more information.
READ MORE