Don't leave home without this colorful tool in your pocket!  We have created a card set of carefully selected colors to help you explore and play with color.  There is one card for each of the 44 brilliant Tubular Spectrum™ colors, and 6 value viewing cards.
Here is what the front side of the 10 Blue card looks like:
Value Viewing Cards
Value is a very important part of color, and it is the thing that you notice first about a color.  To make it fun to learn more about this valuable color property, we have included 6 Value Viewing Cards in each set.
Lots of Information
Inside the box, there is a handy reference sheet to fill you in on all the information available on each of the cards.  The back side of each card is a solid color representing that Tubular Spectrum™ yarn color.  Please note:  although we have carefully selected the colors that are printed on the cards, paper is paper and yarn is yarn.  The colors on the cards do not exactly match the colors on the yarn.  If you want to see the actual yarn colors, we do have sample cards available.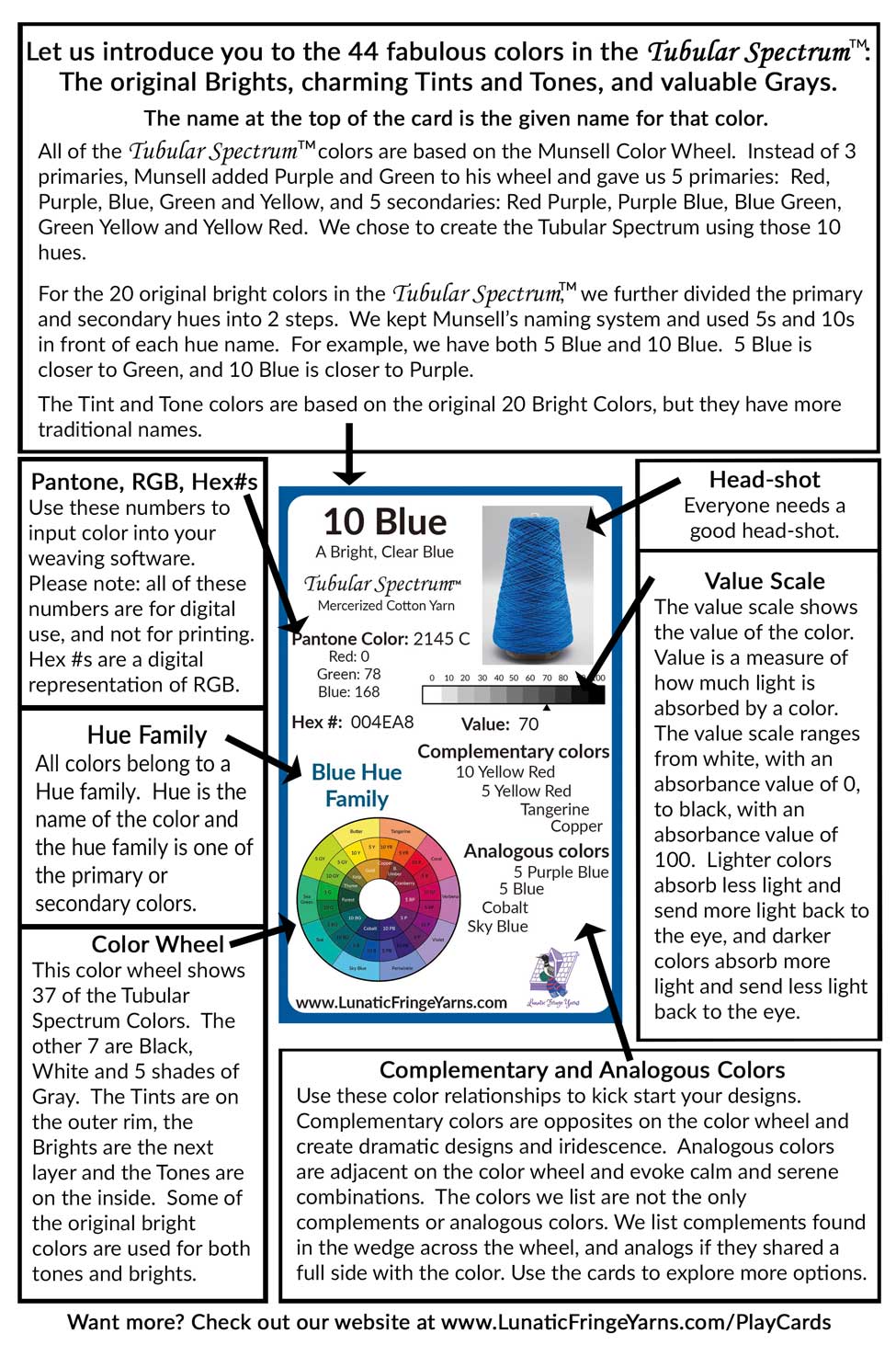 More Games to Play:
Included with the Playing with Color Cards, we have listed a number of games to play.  We have included more below.  There are an infinate number of games to play with these cards.  Let us know your favorites and we may add them to the list!
By Yourself:
Pick your favorite color.  Add 3 analogous colors and a complement to make a color palette.
Pick your least favorite color.  Add a complement and 3 of the complement's analogous colors.  Do you like it more?
Pick a color that goes with your favorite dish.  Make a color palette of 5 colors that you like with that color.  Use the first color in the biggest proportion and choose the proportion of the other colors.  Now use the first color as the smallest proportion.
Now think of the word "dish" in another way that you didn't in the suggestion above.  Create a new color palette using that thought.
Pick a color of the day and notice how often you see it in the real world.  Combine it with other colors that surrounded it.  Make a stripe sequence with those colors.
Use one of your color palettes and make a stripe sequence using the colors in various proportions.  Use the color you like least in the smallest proportion.
Use those same colors and take the color you liked least and use it in the biggest proportion.  Do you like the color more or less than when you started?
Pick your favorite palette.  Note the value of each color.  Using just the value numbers on the cards, find the same number of colors to make a new palette.
With Friends:
Everyone in a group picks the card for their favorite color.  Team up with your compliment to play your favorite board game.
Meet and greet.  Put the cards in a small brown paper bag.  Each person in a group picks a card from the bag and finds their complements and analogous friends.
Make a guild or group challenge.  Have everyone pick a card from the deck.  Arrange the picked cards in a variety of ways, for example alphabetically by pickers first name.  See what you think of this as a stripe sequence and what might be done to make it work.
Have everyone pick a color.  Pair up with a complement, then find 2 other groups that have analogous colors to one of your pair of colors.  Do you like the color palette that you found?
Have everyone pick a color.  Find 4 friends with similar value colors, and one friend with a different value.
Color Circle
Here is a bigger view of the Tubular Spectrum™ color circle that is shown on all of the Playing cards.  This color circle includes all the Tints, Tones and Bright colors in the Tubular Spectrum™.  We are delighted to finally have made this expanded color wheel with all of the Tubular Spectrum™ mercerized cotton yarns.
You don't have a Playing card set, and would like one? Click here.