Weaving a project always leads to plenty of "what if" questions.  After weaving the blue-green Chameleon scarf, we started thinking about what other colorways we could use.  3 strands of 10/2 mercerized cotton yarn holds lots of potential for color combinations.
Grays came immediately to mind…gray scarves are classic, and we have some lovely shades of gray.
We warped the loom using 3 strands of 10/2 mercerized cotton yarn in dark gray, middle gray and light gray, and the scarf was woven.  Sett at 8 ends per inch, 3 strands of 10/2 mercerized cotton for each working end.  Hmmm…the concept was right, but the scarf didn't look quite as nice as the blue/green one.  You could see the individual strands of the gray yarns in the color blends and it wasn't as pleasing of an ombre as the other scarf.
After puzzling a bit about what wasn't quite right, our thoughts turned to value and how the 3 gray yarns are distinctly different in value compared to the blue-green yarns.  To illustrate this point, we took some pictures of yarns and turned them into gray scale to see how the values of the various yarns played together.  Look at the sets below to see how this works: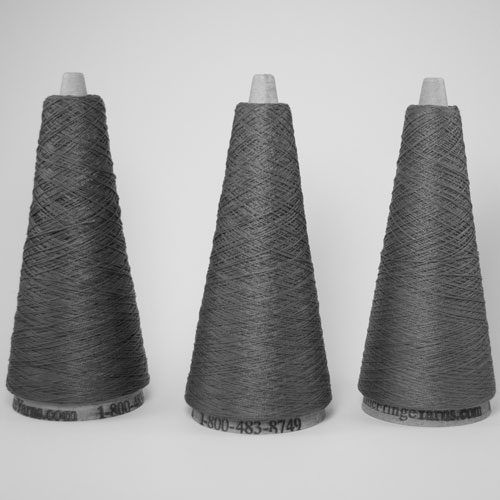 The Blue-Green combination all have a similar value when you look at the gray scale picture shown above.
The Gray yarns have widely different values as can easily be seen in the gray scale picture shown above.  That is why the yarns don't visually blend when you have three strands together.  You can still see the distinct yarns because the value contrast is high.  When creating nice color gradations, the colors that will combine best are those whose values are similar.
So now that we worked that out, we still were left with the initial question…what is another set of colors that will work to make a pleasing combination for the Chameleon Scarf?  In Lunatic terms, on to "what if" round three…what other three color combinations are analogous and similar in value.  Hmmmm….Pink/Purple is always a good choice!  When we checked the values of 10 Red Purple, 5 Red Purple and 10 Purple, they were fairly close in value.  10 Purple was a bit darker than the others, but the variation was not as strong as the gray.
Off to the loom we trotted with those colors!  This time the scarf was sett at 10 epi, but again with 3 strands of 10/2 mercerized cotton for each working end.  And this time we were armed with some advanced knowledge of how the colors should play together from the pictures.  It is really easy to snap a picture on a cell phone and then turn the settings on that picture to make it appear only in gray scale. A great tool for our yarn planning toolbox.
This time, we were not disappointed.  The yarn colors blended well, and although 10-Purple is a bit pronounced in the warp and weft, it really adds a depth to the weaving and doesn't distract from the color gradient.
Now, our last question: do ombre combinations with 3 strands of 10/2 mercerized cotton work with colors similar in value and not necessarily analogous?  We are running off to find our cameras and line up more cones of yarn.  Let us know if you figure out combinations that work!