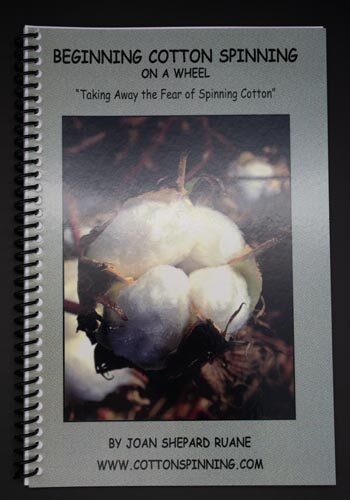 This book is written for beginners who want to learn how to spin cotton using a spinning wheel.  It is also for cotton spinners who want to know how other cotton spinners spin cotton and perhaps learn a few new things about cotton and cotton spinning.  Joan Ruane is an amazing spinner who has dedicated many years to making cotton spinning easy and fun for handspinners.
If you would like to see Joan in action, we do have her DVD's on cotton spinning.
READ MORE
"A little bit of Acala in my life.. a little bit of Pima by my side…"   A little bit of everything!
This is the perfect sliver sampler with 1 oz of each of the following:
Brown Pima
Cinnamon Brown
Green
White Acala
White Pima
Hemp
Spin your own cotton yarn!  Luscious colors of cotton available to spin into your very own fiber.  Sustainably grown cotton from California and New Mexico.  The brown and green color is part of the cotton lint so it actually gets darker as you wash it.
READ MORE