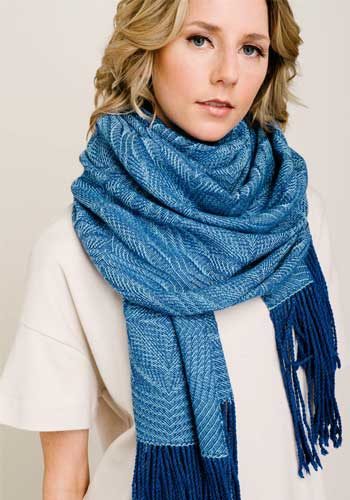 We have assembled the yarns to make Mary Berent's Advancing Blues Shawl as shown in Handwoven's Lookbook:  Loom Theory:  8-shaft Shawl Collection 2019 from Long Thread Media.  We have collected the Zephyr yarns you will need to make the shawl…you will need to purchase the instructions from Long Thread Media. Click Here for the instructions:  Loom Theory: 8-shaft Shawl Collection 2019 from Long Thread Media.  The instructions as written make 1 shawl.  We have assembled the yarn for either 1 or 2 shawls.
Photos by Caleb Dane – Good Folk Photography, courtesy of Long Thread Media.
READ MORE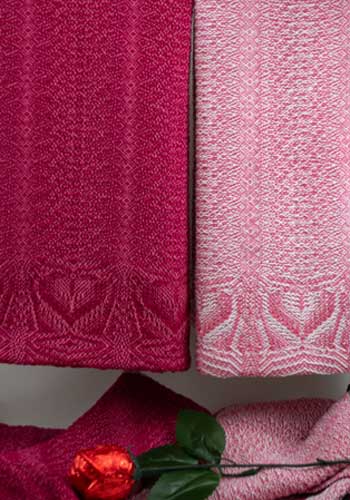 You're going to fall in LOVE with these towels!
With these instructions, you can weave four beautiful heart towels on your 8-shaft loom.  The advancing twill pattern provides the heart borders, and then the body of the towel is woven with a fancy twill that creates a "sweet" texture.  We have included instructions to make two pink towels and two red towels using our 10/2 Tubular Spectrum™ yarns.  The finished sizes of the towels are approximately 16" x 24".
Heart pattern from Weaver's Design Collection Twill Thrills pg 52-54.  The heart pattern was originally designed by Kim Marie Bunke for Weaver's Magazine.
READ MORE