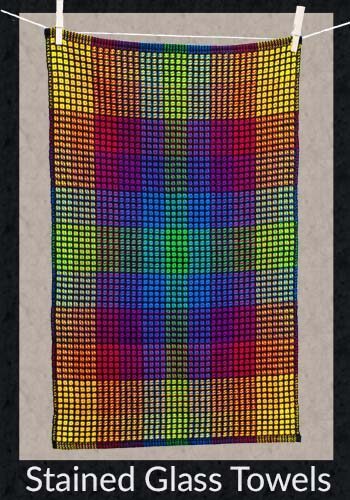 Add the light of stained glass to your kitchen with these gorgeous color-and-weave towels or dishcloths. The kit makes either 2 towels or 8 dishcloths.  Instructions are included for both dishcloths and towels.  Kit Designed by Kelly Sandusky.
Scroll down for more information.
READ MORE
I love rainbows – the reward at the end of the rain! This kit from DJE Handwovens features 6 colors of our Tubular Spectrum mercerized cotton yarn. The 4 napkins are fun color play and can be woven on rigid heddle (need two 8 dent heddles) or 2-shaft table and floor looms. With the warp already wound, this is a fast and easy weave for all experience levels. Can't bring yourself to use the napkins? It can be a lovely table runner or set of 2 placements or towels.
READ MORE