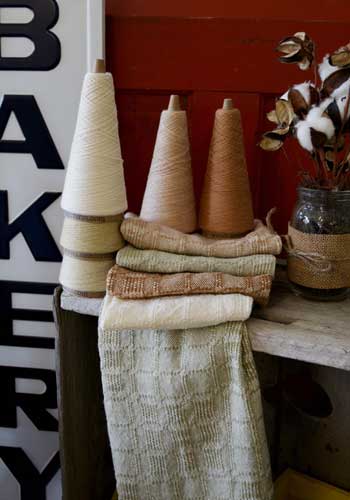 Combine a 2 ply hemp warp with 5 colors of 10/2 American Maid™ naturally colored cotton to weave 5 lovely fingertip towels (finished size approximately 13" x 24").  The hemp yarn is manufactured in Romania, and we make the American Maid™ yarns from cotton grown here in the American west and spun in the US.  When you wash the finished towels with baking soda, the color of the naturally colored cotton yarns will deepen.  The green cotton is especially affected by the alkalinity of the wash water. And, the colors will deepen over time.
Project Description:
5 fingertip towels
20 EPI, 20 PPI
15" wide in the reed
Warp length 6 yards
Equipment Needed:
4-shaft loom with at least 15" weaving width.
10 dent reed.
A stick or boat shuttle and bobbins
Contents of Kit:
1- 1.5 oz cone 10/2 American Maid unmercerized cotton yarn each: Natural White, Dark Green, Light Green, Dark Brown, Light Brown
1- 400g cone: 2 ply Hemp (Natural or Bleach)
Listen to the Loon! Difficulty level is Intermediate to Advanced (Two fish). This is a Four harness kit.
READ MORE